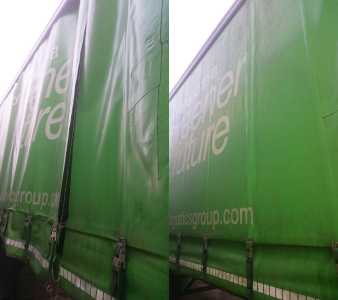 Unfortunately in the day to day running of your vehicles, curtains and sheets will get damaged.  With our wealth of experience we will always endeavour to repair the damage from the inside of the curtain, leaving the repair as least obvious as possible.
Remember your vehicles and curtains are your on the road advertisement, they say a lot about your company. Shoddy repairs and damaged buckles and straps do not give a good impression, and it can also bring unwanted attention from the authorities.
It's important from all aspects to keep your vehicles in good order.
Our onsite service with well stocked vans will keep your down time to a minimum, getting your vehicle back on the road a.s.a.p. at a very competitive price.
We repair or replace all aspects of the curtain such as tensioners, poles, runners, buckles, straps and pelmets.
We also repair bulk head doors from temperature controlled vehicles, replacing the sponge if necessary and repairing any damage.